Hardware Store – winter 2021/2022
Winter, the most demanding season of the year, requires proper preparation – including equipment. In this list you will find various products that can come in handy during winter trips to the mountains, skiing and more. Remember, however, to think carefully about your next purchases: buy only the necessary, durable and really necessary things. So that they serve us for years.
AKU
Hayatsuki GTX
An innovative model of high-mountain footwear dedicated to use in challenging alpine terrain. Its construction is based on IMS 3 technology, which is a unique midsole construction, forming a special skeleton. It is formed by three integrated layers: responsible for cushioning EVA foam, providing stability and protection with AKU's proprietary solution – Exoskeleton, and guaranteeing grip to the ground, durable Vibram® Curcuma sole. The upper layer features a waterproof GORE-TEX® Insulated Comfort membrane, which – with the support of AIR8000® technology – is responsible for the shoe's proper breathability. Other key features include Primaloft® insulation in the liner layer, the foot-supporting Custom Fit Pro Alum insole and the toe-protecting Liba® Smart rubber boot. The footwear is compatible with automatic crampons.
Suggested retail price: PLN 1699.99
Black Diamond
Vision Hybrid Hoody Technical Jacket
A jacket with a hybrid construction that provides warmth and comfort during movement. Designed for intense mountain activities such as ski-touring, winter climbing, trekking. The highly technical cut and combination of PrimaLoft Gold insulation with good waterproofing and breathable panels on the back and under the arms provide everything you need for an intense mountain tour. PrimaLoft Gold insulation (60g) reinforced with space-age (developed at NASA) Aerogel technology. This is a very lightweight material that keeps you warm well. Waterproofing uses groundbreaking Japanese Liquid Crystal Polymer technology. Regular fit cut.
Suggested retail price: 1069 PLN
Black Diamond
Couloir skitouring harness
The refined, unique design of the Black Diamond Couloir harness provides maximum comfort and safety on advanced mountain expeditions where weight and ergonomics are paramount. It owes its ultra-light weight to its fabrication from breathable Dynex webbing, which not only remains almost imperceptible on the silhouette, but above all stands out for its high durability. Adjustment of the waist belt is made possible by a single buckle, and quick donning and doffing while wearing skis or crampons – by the appropriate design of the thigh loops unfastened in the front part. The harness is also equipped with a patented Infinity Loop seamless connector for safe belaying of a partner, as well as two climbers and four Ice Clipper loops. The Couloir has a low weight of approx. 135 g and allows it to be rolled up to the size of an orange for convenient storage in a backpack or jacket pocket.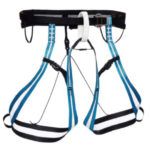 Black Diamond Couloir skydiving harness
Suggested retail price: £319
Brubeck
Men's thermoactive Thermo sweatshirt
We dedicate the Thermo long sleeve sweatshirt to all winter sports enthusiasts. Perfect for skiing, snowboarding or winter hiking. A ski thermal sweatshirt made of functional microfibers from the Thermo collection will not only provide you with the optimal body temperature on the slope or trail, but will also keep your skin feeling dry and fresh all day long. Together with Thermo thermal leggings, you will complete a set that will protect you from the cold.
Suggested retail price: £159.99
Brubeck
Men's Thermo Thermo-active Leggings
Fitting the right thermoactive ski underwear is an important preparatory moment before the winter season. It is the choice of ski leggings as the first layer that determines whether you will be adequately protected from the prevailing cold weather. The answer to your needs can be thermoactive leggings, which not only maintain body temperature at the optimal level, but also improve the transfer of moisture to its surface, eliminating discomfort and rapid cooling of the body.
Columbia
Men's Iceline Ridge Jacket
The jacket will be great for slope and freeride riding. A membrane made with Omni-Tech™ technology protects against moisture, while Thermarator™ insulation ensures high thermal comfort. Functional, integrated snow apron will protect against heat loss and reduce the risk of getting your back wet. The interior of this model features breathable fabric made with Omni-Heat™ technology, which reflects the heat generated, using it to re-warm the body. The jacket features zippered cuffs, an adjustable, detachable hood, as well as two zippered side pockets and a sleeve pocket for a ski-pass card.
Columbia
Women's Abbott Peak™ Insulated Jacket
The jacket is a must-have in the closet of female winter sports fans. The jacket features an Omni-Tech™ waterproof and breathable membrane. Thermarator™ synthetic insulation along with Omni-Heat™ Thermal Reflective lining are responsible for the thermal comfort. Jacket features zippered hand pockets. Additionally, it has been equipped with a pocket for ski pass, goggles and an internal secure pocket. An adjustable snow apron prevents snow from getting under the jacket. The Abbott Peak™ Insulated Jacket also features an adjustable hood and cuffs with thumbholes.
Suggested retail price: PLN 949.99
Dynafit
Superlite 150 skit binding+
Versatile, lightweight skydiving binding inspired by competition models. 294 g in weight, all-aluminum construction and a 4-13 release force (MZ) adjustment range make the Superlite 150+ the best option for fast skydiving enthusiasts. The side release force is adjustable in a wide range of 4-13, which is a unique feature on the market and makes the model extremely versatile. In addition, the bindings are equipped with ski stops and a plate that allows you to adjust the spacing of the binding.
Suggested retail price: £2699.90
Fjällräven
Expedition X-Lätt Jacket
Ideal for cold, active days when you need a little more warmth than a membrane jacket provides. The Expedition X-Lätt Jacket has enough ultralight padding to keep you warm when body heat alone is not enough. Made from a stretchy recycled polyamide fabric, it's ideal as a mid-layer for winter adventures or as a stand-alone jacket on warmer days. The lightest model in Fjällräven's Expedition series.
Suggested retail price: PLN 899
MARMOT
WarmCube Featherless Hoody Jacket
An innovative model of insulated jacket from American Marmot. Innovative because it is based on a unique 3D WarmCube™ construction, which prevents the insulation from moving inside the jacket. Synetic 3M™ Thinsulate™ Featherless Insulation has properties equivalent to 700 cuin down. Its complement is the prized PrimaLoft® Silver Hi-Loft microfiber. This ensures that the jacket will protect you from the cold, while at the same time – thanks to its breathability properties – not causing excessive sweating during slightly more dynamic outdoor activities. The outer layer of the jacket is based on durable, 100% post-recycled nylon, created using Ripstop technology, which guarantees the durability of the material.
Suggested retail price: 1,799.99 PLN
KAMIK
Momentum 3 boots
Extremely warm, women's snow boots designed for urban use and outdoor recreation, including rough terrain. The model was made exclusively from vegan components. The upper is based on waterproof nylon, combined with faux fur on the top to prevent snow from entering the boot. Protection from the cold is provided by the innovative Heat-MX synthetic insulation, which provides excellent breathability and maintains thermal comfort in a variety of weather conditions, including temperatures as low as -40°C. Grip to the ground is guaranteed by a non-slip outsole, made of dual-density synthetic rubber. Interestingly, special lugs in the heel region allow snowshoes to be attached to the boots.
Suggested retail price: 429 PLN
Ortovox
Free Rider 22 Avabag Backpack
A technical backpack designed for mountain enthusiasts who practice the most extreme and dangerous forms of skiing, i.e. freeride and skitour. Free Rider provides double safety: it protects its owners not only from avalanches, it also gives protection for dangerous falls. The heart of the backpack is the AVABAG system ie. A voluminous cushion that, in the event of an avalanche, fills with air in a matter of seconds, keeping you on the surface of the avalanche. Safety in falls is provided by the SPS-FLEX-BACK SYSTEM. Located in the back panel, an ergonomic SAS-TEC foam protector absorbs impact energy to protect against serious injury. Weight: 1440g / 2440g (with AVABAG system)
Suggested retail price: 3200 PLN
Petzl
Technical Dart crampons
The lightweight, technical Dart crampons are designed for ice climbing, mics and dry tooling. The front blades are modular (mono-point short/long, bi-point or bi-point asymmetric). Can be adapted to any terrain: from snow cul-de-sacs to dry tooling. Second and third pair of teeth provide support and stability regardless of ice type. The configuration of the front blades ensures very precise seating. The life of the crampons can be extended by replacing the front blades or the front of the crampons. Size: 34-44 with M connector (standard), 38 to 49 with L connector (available as an option). Weight: 820 g.
Suggested retail price: PLN 1099
Petzl
Nomic Technical Check
The Nomic is the benchmark of ice climbing chequers. Superbly balanced, provides excellent sweep. The PUR'ICE blade allows the ski to successfully embed an ice check, regardless of the type of ice. The geometry of the check and its double handle offers multiple grip options, as well as a sure change of hands. Comfortable grip thanks to the ergonomics of the handle and GRIPREST support. Equipped with a minimalist hammer, protecting the head and allowing you to hit the hooks. Thanks to the modular design of the head and numerous accessories, it can be adapted for different types of use. Weight: 585 g
Suggested retail price: $1275
Primus
Essential Trail Stove DUO burner
Something for beginners and experienced field cooks alike. Burner designed in Sweden and handcrafted in Europe from lightweight, high-quality materials. Ready to go in less than a minute. Laminar Flow Burner technology provides precise flame control and a lower center of gravity, making the stove stable, lighter and more compact. The burner's wide profile and serrated supports ensure the stability of dishes placed on it. With 2500 watts of power, you can boil a liter of water in about 3.5 minutes. Fits threaded and push-in cartridges. Weight 114 g.
Suggested retail price: $159
Salewa
Alpine-Tec Cheque
A lightweight hybrid checker with an aggressive blade and minimalist handle, perfect for more or less demanding mountaineering in steep technical terrain. Ergonomic head design makes it extremely comfortable to carry in hand. Made of steel, the strong, aggressive blade provides even better penetration of snow and ice when traversing steep mountain gullies and glaciers, and the blade allows for efficient forging of steps. Stability in hard snow and ice is enhanced by a sharp replaceable tungsten carbide tip at the end of the stylus. Alpine-tec comes in two versions, with a paddle and a hammer, and in two lengths of 50 and 58 cm.