How to prepare for an autumn canoeing or packrafting trip
Low temperatures, possible rain, less daylight do not encourage this type of activity – rafting in autumn may seem unattractive, but only seemingly! After all, autumn is a very photogenic season, and on top of that, the rivers get empty and quiet then, so we have a better chance of observing animals. Frequent rainfall causes rivers to become deeper and sections that were partially dry in the summer become navigable again. Insects, which can be a real nuisance in warmer seasons, especially in wetlands, also do not annoy in autumn. Therefore, autumn on the water can be beautiful. Here's a guide that advises how to prepare for adventures on the water at this time of year.
Before packing for a rafting trip, it is a good idea to determine the route and the times of sunrise and sunset at the chosen location. To do this, all you need to do on your location-enabled smartphone is to search Google for "sunrise" or "sunset". Staying after dark on a river you do not know poses a serious danger – especially in autumnm when temperatures drop rapidly after dark. Of course, night rafting can be very attractive, but only if we plan it in full consciousness and on a well-known section of the river. Nevertheless, regardless of the time of day, an essential piece of equipment is a headlamp. The flashlight you have in your phone can be treated only as an emergency light. It is difficult to move with such a light source in a kayak or packraft, plus we deplete the energy in a device that should serve us mainly for communication.
It is best to prepare a list of items for rafting, which you will modify depending on your needs. The list will be helpful not only in gathering the appropriate equipment, but also directly for packing. When making it, take into account the various possible scenarios of the rafting trip being prepared. It is worth looking at weather forecasts for the planned area and time. Rainfall or a strong contrary wind can change the situation on the river and significantly extend the time of our rafting trip.
On such a list we also include clothing. The basic principle of rafting clothing should be comfort and convenience. Clothing should not restrict our movements while paddling. The optimal solution here is thermal clothing worn on the bottom and things made of waterproof material on top. It should also be taken into account that while our legs are in some part hidden inside the equipment we are paddling with, our body is exposed to external factors such as wind or rain. In such a situation, the optimal solution will be a combination of a short-sleeved thermal shirt with a long-sleeved thermal shirt and a waterproof jacket with a looser cut, which will not restrict movement, but at the same time will wick sweat to the outside. If the temperature drops, it is a good idea to have an extra fleece sweatshirt or other warming layer on hand (e.g. A thin and light jacket with synthetic insulation, which does not absorb moisture and dries quickly). Avoid cotton and down items, which easily absorb moisture and take a long time to dry.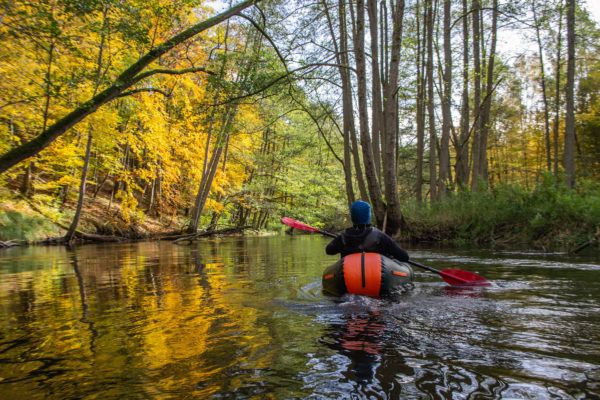 Packrafting in autumn (photo. Robert Bogusz)
As for foot protection, the best solution is to wear 2 or 3 mm thick neoprene socks and ankle boots of the same material on a hard sole. You can also use trekking boots, into which we can put heaters in the lower temperatures, which activate after contact with the air. As a general rule, avoid rubber boots, which pull downward when they fall off. Since we are mainly working with our upper body during the rafting trip, our legs and feet are prone to hypothermia.
Head protection is a must. Fleece hats work well on rafting trips. The hat should protect the forehead and ears and at the same time should be neither too tight nor too loose. On routes fraught with obstacles such as fallen trees and low-hanging branches above the water, it is worth having a spare cap – in case you lose the first one.
It's also worth thinking about neoprene or fleece gloves. You might consider gloves with removable fingers. It will then be easier for us to operate in situations where precision matters, as well as when operating a smartphone.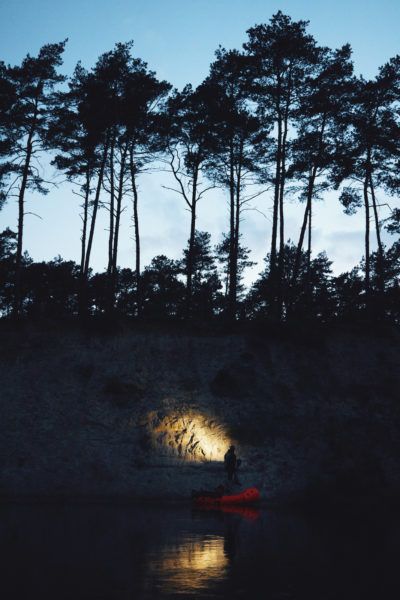 Packrafting (fot. Adam Klimek)
When hitting the water in the fall, regardless of our experience, you should always consider the possibility of capsizing. That's why you need to have a supply of things to change with you. A typical kit should include extra shoes, socks, personal underwear, pants, sweatshirt, jacket, cap and towel.
Things to change should be secured in a waterproof and airtight bag. It is worth remembering that such bags are made of different materials. Those most often used are made of PVC-coated fabric, which stiffens the lower the temperature gets. Bags made of polyurethane-coated fabric work better (the same material most packrafts are made of). Also remember to roll the waterproof bag in such a way as to leave a space with air in it. This way, if you fall into the water, the bag will stay afloat and you will easily locate it.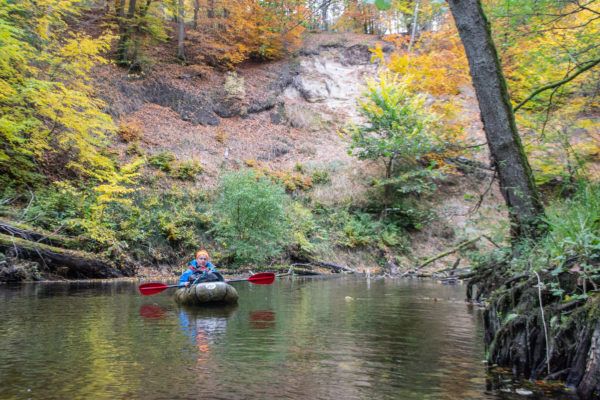 Packrafting in autumn (photo. Daniel Tokarz)
In the second bag of smaller capacity we pack additional things used during the rafting trip. Among other things, you can stash a cell phone, a powerbank, a cable to connect your phone to the powerbank, toilet paper. On your phone it is worth installing an application that allows you to determine the location and save the route, preferably with offline maps (fot. Locus Map or Maps.cz). This will make it easier to make decisions about pace, the final length of the route, rests and their duration. It's a good idea to keep your phone in a waterproof case. If you plan a lot of trips, a GPS tracker can be a good investment. If you are planning a solo rafting trip, it is essential to inform trusted people about the planned route and its expected duration. It is a good idea to share your GPS position with someone who will be able to help you in case of more serious problems.
We prepare provisions in an amount adequate to the length of the rafting trip. The basics are often sandwiches and a thermos of hot drink. It's also a good idea to take your favorite snacks, and energy gels or glucose lozenges for emergencies. You might also consider taking a stove with a supply of gas and water. You can use it to prepare hot tea, coffee or freeze-dried meals on the fly during breaks. You should also think about a knife, which will come in handy for all kitchen and repair work. If with an open blade, it should have a sheath. Pocket knives also work well.
If you plan to shop along the way, take cash – in small towns along the way it is not always possible to pay by phone or card.
Wearing sunglasses on an autumn rafting trip is not a bad idea at all. At this time of year they will protect us more from the wind than the sun, but also from small insects or tree branches falling into our eyes. Photochromic eyeglasses with increased sensitivity range, self-darkening which makes it possible to use them after darkness falls are excellent.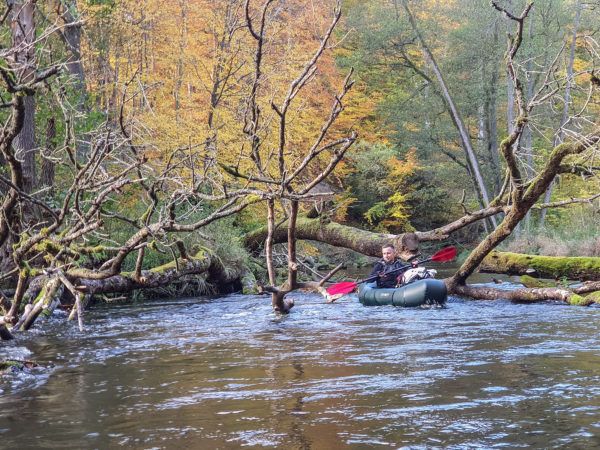 Packrafting in autumn (photo. Robert Bogusz)
An essential part of every rafting trip (and not only) is a first-aid kit. Should include: hydrogen peroxide, plasters, painkillers, anti-diarrheal agents. It is also worth thinking about basic repair equipment for our boating equipment, especially if we are moving by packraft. Although these, break through extremely rarely, a possible leak can spoil our entire rafting trip. Having the right patch, packraft you can fix in literally minutes and continue the adventure.
Autumn and winter do not end the kayak or packraft season – with proper planning it can last all year long. Rivers that you know well can show their completely new face.