How to prepare for a winter kayaking or packrafting trip? Answer
Cold, frost, snow – difficult conditions are not a reason to give up the kayak or packraft adventure. Winter is a good time to rediscover favorite routes, sometimes transformed beyond recognition. This is also a time to gain new skills and unique experiences, and a good opportunity to improve fitness and strengthen immunity.
Tips included in the text How to prepare for an autumn kayaking or packrafting trip Are also largely valid in winter. In this guide we deepen the topic, focusing on issues typically associated with winter.
Clothing
When preparing for winter rafting, even more attention should be paid to proper clothing. Protection against getting wet and getting cold is undoubtedly a priority.
Here may arise a dilemma related to the level of "professionalism" of our outfit. However, before deciding on any purchases, it is worth reviewing the resources you have. For winter rafting, you can successfully use elements of your ski outfit and other clothes that you use in the mountains in winter.
In the case of clothing not strictly designed for rafting, you should take care to make sure that the cuffs of the jacket are well protected, so that water dripping from the paddle does not penetrate into the clothing. As a last resort, you can wrap the cuffs with waterproof tape. Pants, like the jacket, should be waterproof. Absolutely wear thermal underwear underneath (top and bottom) and further layers depending on the temperature and level of exertion. Remember that during rafting, mainly the muscles of the upper body work.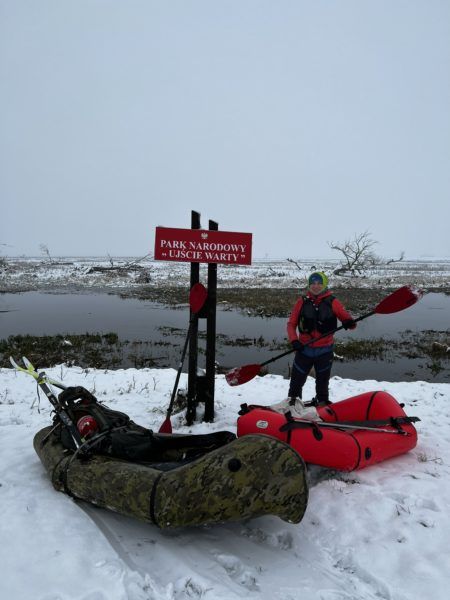 Winter packrafting (fot. Robert Bogusz)
Buoyancy vest
We should always use it, including in summer, even if we feel like a fish in the water. However, in winter, especially for lakes and larger rivers, this piece of equipment is absolutely necessary.
Hands – two schools
During winter rafting, keeping your hands warm is essential. In this area, we can use two solutions:
Thin fleece gloves + waterproof gloves. PVC-covered textile work gloves with high cuffs will work well as the latter. They are inexpensive and effectively protect your hands from moisture. They should be slightly larger so that fleece gloves can easily fit under them. Since gloves during rafting are most often a removable part of the outfit, it's worth having extra ones in reserve in case of cuffed or lost water situations.
Ski gloves with membrane / special waterproof and insulated gloves. In this case we rely on the manufacturer. Ski gloves often have wrist loops – this can prevent loss. However, these types of gloves will get wet over time, so it is essential to have a second pair in reserve, and for longer rafting trips a third pair as well.
Do not forget a warm hat. Preferably two, since next to gloves it is the most frequently lost part of rafters' outfit.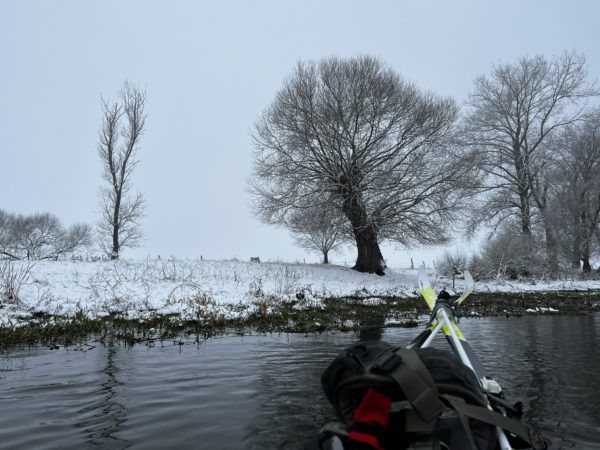 Winter packraft rafting (fot. Robert Bogusz)
Feet
Shoes should be waterproof, behind the ankle, while warm socks should be worn on the feet. In the situation of buying neoprene socks, it is worth remembering that their thickness should not exceed 2-3 mm, so as not to be too tight in the shoes.
Waterproof bag and emergency equipment
Unlike in summer, in winter an accidental swim can have very serious consequences. Therefore, at this time of year, it is better to avoid shallow rivers full of fallen trees or sharp stones – situations where the risk of packraft puncture is higher.
Regardless, we should always have an emergency kit with us. Into a good waterproof bag, which will provide extra buoyancy in case of problems, we pack things that will allow us to come out unscathed, even if we get soaked to the bone. This list is the bare minimum – we don't want to carry too many things that we hope never to use. For more serious expeditions, it should be expanded accordingly.
a set of thermal underwear for a change,
warm sweatshirt,
Lightweight cap and gloves,
warm socks,
Lightweight shoes (e.g. running shoes) or bags to put soaked shoes back on,
chemical warmers,
a kit for starting a fire in winter conditions (e.g. with kindling).
Other patents
a piece of karimata to sit on will provide additional insulation and protection from water that may accumulate on the inflatable packraft pillow,
A thermos of hot tea and high-energy snacks. For longer rafting trips, it's a good idea to bring a hiking stove and a freeze-dried meal,
As with any rafting trip, but in winter even more so, remember a good (proven) waterproof phone case,
phone and other electronics, spare batteries, we keep next to the body – in a warm place,
If you do not have a waterproof bag that allows you to comfortably transport all your equipment during the hike, a smaller bag can be packed inside a large trekking backpack,
Contrary to appearances, it is easier to swim in a stronger frost than in temperatures around 0 ° C. The stronger the frost, the faster the water freezes on our paddle, clothes and deck, and thus we get wet less,
alcohol is not an option. This is probably obvious, but perhaps it doesn't hurt to remind you: the feeling of warmth after alcohol consumption is apparent, and on top of that it blunts our attention and increases reaction time.
Robert Bogusz
Michal Gurgul