KFG SKI FILM TOUR – a unique screening in Zawoja
Soon Zawoja will be visited by lovers of skydiving, and in its very demanding variety – on February 26th there will be a Polar Sport Skitour competition, and the event will be held in Zawoja. Basi German. This will be the 17th. edition of this unique event. On the eve of the competition, we will invite you to a cultural event that will enrich the sports excitement with its theme. On Friday, February 25, the Zawoja Babiogórski Cultural Center will host a screening of selected skit and freeride films.
Importantly, the Competition Bureau will also be operating at the Babia Góra Cultural Center on Friday, and the film screening will be followed by a briefing for competitors (which will also be streamed online). The program of events is as follows:
17.00 – opening of the Polar Sport Skitour competition office
18.30 – KFG Ski Film Tour film screening
20.15 – competition briefing (also online)
And here is the set of films you will be able to see during the show:
From Sources, dir. Yann Rausis, Switzerland
Gerwentil, dir. Christoph Kaar, Philipp Kaar, Austria
Innsbruck. Powder. People, reż. Timm Schröder, Neil Williman, Austria
Simply, dir. Titouan Bessire, Switzerland
The Traverse, dir. Ben Tibbetts, Jake Holland, France
Admission to the screening is free. Please visit!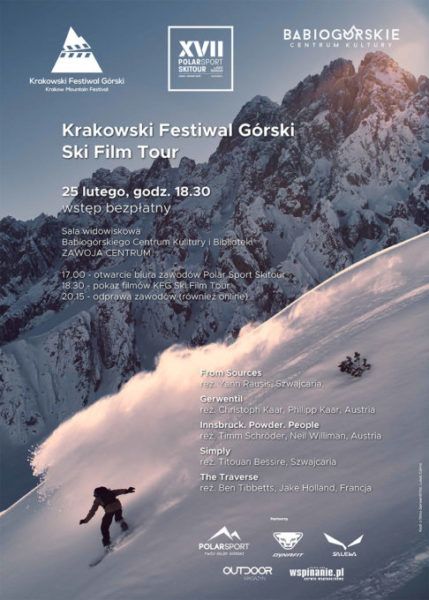 Films to be screened
FROM SOURCES, REJ. YANN RAUSIS, SWITZERLAND, 15 MIN
A fabulous journey into the depths of an ice cave and into yourself at the same time. Yann Rausis, a professional freerider, moves away from everything he knows to experience spiritual liberation through freeride visions. He returns to the world visibly changed.
GERWENTIL, RE¯. CHRISTOPH KAAR, PHILIPP KAAR, AUSTRIA, 14 MIN
Gerwentil is the historic name of the Karwendel range, one of the few places where you can still experience a wild mountain adventure. That's according to three freeriders who are doing a two-year project here. The film shows their adventures from an interesting perspective, critically evaluates their actions and tries to get to the motivation behind the endless search for risky descents. The question the filmmaker seems to be asking is whether it is acceptable to invade the world of rare animals and plants, just because we enjoy exploring it so much?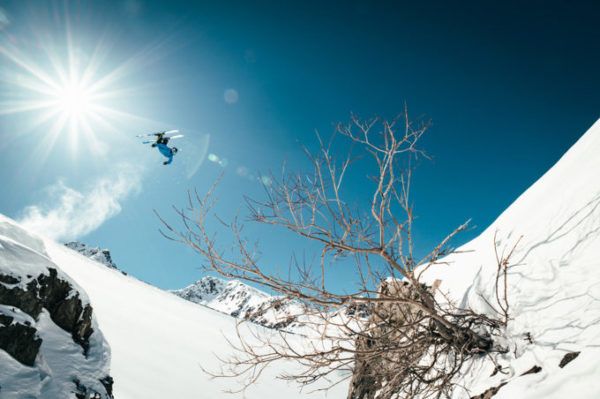 A frame from the film "Innsbruck. Powder. People" (fot. Daniel Bear)
INNSBRUCK. POWDER. PEOPLE, RE¯. TIMM SCHRÖDER, NEIL WILLIMAN, AUSTRIA, 17 MIN
Brilliant skier from New Zealand, Neil Williman, spends lockdown in Innsbruck. Here he meets local riders who show him the immediate area. Together they set out to find the best line, thus testing what is possible and what is not during the pandemic. They use public transportation. At the end of the film, they share their honest opinion on the subject.
Simply, dir. Titouan Bessire, Switzerland, 15 min
Simplicity is often the key to happiness. This is the assumption of the filmmakers and freeriders looking for new lines and fun in the mountains. It's a journey from peak to peak, from hut to hut, interspersed with descents in the best style. A film made in a simple, minimalist aesthetic. And it's a shame that it lasts only 15 minutes.
The Traverse, reż. Ben Tibbetts, Jake Holland, France, 33 mins
World-class athletes, Valentine Fabre and Hillary Gerard, become the first women to tackle the traverse of the famous Haute Route in non-stop style. For Valentine, it's a tribute to her husband, who set a record here among men not long before a tragic climbing accident a decade ago. In contrast, Hillary, a great ultramarathoner, is a newcomer to the world of ski mountaineering. The two, however, form a close-knit and ambitious team – they have 100 kilometers and 8,000 meters of elevation gain to cover in one of the world's most spectacular mountain regions. Will months of preparation be enough to conquer the challenge?