Travel on four paws – guidebook
Going out of town and hiking in the mountains accompanied by a dog? For this type of travel, any time is good, as long as we properly prepare for it. Here are some tips on how to travel safely and responsibly – so that the trip is enjoyable for both us and our pets.
Attention, dog in the car!
Since the dog is man's best friend, we should take the best possible care of it. A trip by car, even a short one, requires proper planning. What to keep in mind?
Although there are no specific regulations for transporting dogs by car, there are a few rules to follow. The animal should be secured in the same way as the luggage, that is, it should not threaten our safety during the trip, nor should it itself be exposed to stress or loss of health. This means that we should not keep it on our lap, but carry it in a suitable carrier or in a harness attached to the seat belt. Otherwise, we may receive a fine, even in the amount of several hundred zlotys.
When we go on a long journey, we should, make sure with the vet that the pet's health book is not missing anything, and that we are equipped with possible medicines against motion sickness of our pet. If we go abroad, let's check the country's requirements for mandatory vaccinations or medications, without which entry may not be possible. And let's not forget about ticks – a suitable collar or drops may be useful. If you choose to wear a collar, remember to remove it from your dog when swimming in bodies of water such as lakes, streams or creeks. This is because water very easily absorbs toxic substances on the collar, and these in turn are harmful to aquatic organisms and to the animals that drink this water.
If it promises to be a hot day, blackout curtains to shade the windows and reflect the light or, in extreme conditions, cooling vests for dogs may be a good idea. Just wet them in lukewarm water, squeeze them and put them on. If it's below zero, let's make sure to dress warmly and avoid sudden changes in temperature (be careful with air conditioning). Animals are sensitive in this regard and highly susceptible to thermal shock.
Dogs, in addition to wanting to take care of their physiological needs, are not always used to sitting in one place. That's why you should plan breaks every two or three hours during the trip. Traveling comfort can also be increased by choosing appropriate driving hours, i.e. those in which the dog usually sleeps.
Ensure a supply of tested food and water, which not only cools the animal, but also calms and helps in case of choking. When feeding dogs, collapsible silicone dishes are a good option, as they don't take up much space and are easy to wash. On the market we can also find such solutions as a bottle with a lid, the shape of which allows you to use it as a bowl. Keep this in mind, especially when you know that you will not soon encounter a store or gas station on the route.
When planning a car trip with a dog, it is worth making a list of additional things that will make traveling more pleasant, easier or safe. In the first place, a muzzle – preferably a physiological one that allows dogs to breathe, track and drink water, and is comfortable and quite flexible. The following may also prove useful: a car mat to line the trunk or rear seats, an address tag engraved with the owner's data and a chew to occupy the animal for a while. The right carrier can also protect the animal from inclement weather, insects and serve as a bed outside the car.
Let's listen to the dog and observe it. Adapting to his needs is important not only at the beginning of the pet's adventure with our car, but also during each subsequent trip.
Dogtrekking, or mountains the doggy way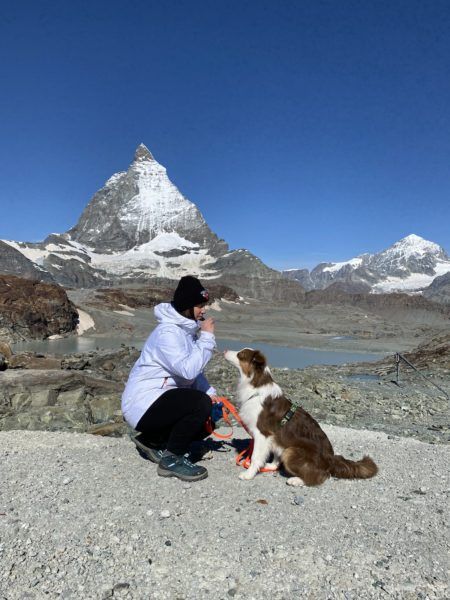 photo. Michal Dabrowski
Despite the fact that in some Polish National Parks there is a ban on entry of four-legged dogs, in many places it is possible to do so. So what exactly is dogtrekking and where in the mountains has the National Park Directorate given permission for dog visits?
Dogtrekking is nothing more than walking with a dog. Definitely not the same as a simple walk around town, however, but an activity that highly physically engages both the dog and its guardian. The dog is dressed in a special harness or vest, so that the pulling force is distributed along the body and not on its neck, and is led on a special leash (ropes with a shock absorbing spring), clipped to a harness fastened to the owner's belt. If we already have this, it is a good start to build a duo with your pet and perhaps to take part in dogtrekking competitions. There is definitely no shortage of such.
Here are the National Parks that you can visit with your dog:
Karkonosze National Park
Magura National Park
Ojcow National Park
Table Mountain National Park
Before each trip, however, it is recommended to check the regulations and whether they have changed. It's also useful to plan your route, because even if the park gladly accepts animals, not always all the reserves located on its territory do so.
The authorities of the National Parks oppose the entry of animals for a number of reasons. First of all, it is about smells that are foreign to wild animals living in forests. Dog noises, for example, can have the same negative impact. loud barking. There is also an argument for the frequent carelessness of owners who let their dogs run loose, creating a danger to other visitors or rare plant species. Therefore, one rule applies: entry to the listed parks is possible only with a dog on a leash.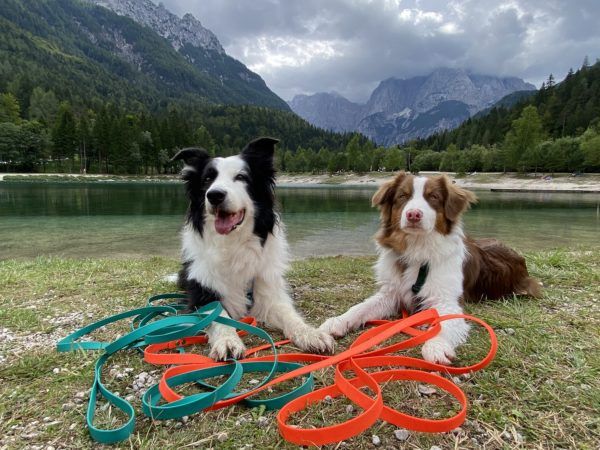 photo. Michal Dabrowski
The situation is similar with mountain refuges. Overnight stays in the mountains with dogs are usually possible, but sometimes it will involve a small surcharge and adherence to established rules. A muzzle may be required on the premises and we may meet m.in. With a ban on leaving the dog in the room unsupervised. The solution, then, may be a night in a tent – at a campsite, in designated camping areas or even, with the owners' permission, on the grounds of a hostel. The dog should be cared for in the same way as yourself, i.e. adapting to the weather conditions as much as possible, including remembering to insulate it well from the ground. If you see your pet getting tired inside during high temperatures, it's a good idea to make a bed for it in the vestibule of the tent.
When planning routes, let's take into account the breed of the dog, its capabilities and our physical condition. Let's ensure that we have comfortable all-weather sports clothes and good quality accessories for the dog. If you do not want to carry all your luggage, you can think about dog panniers, in which the animal can carry small items. Let's plan outings gradually, checking whether the dog will like it as much as we do, and vice versa. Dogtrekking can be an unforgettable adventure, but it can also be a demanding and tiring workout.
Dog on a SUP, kayak or packraft?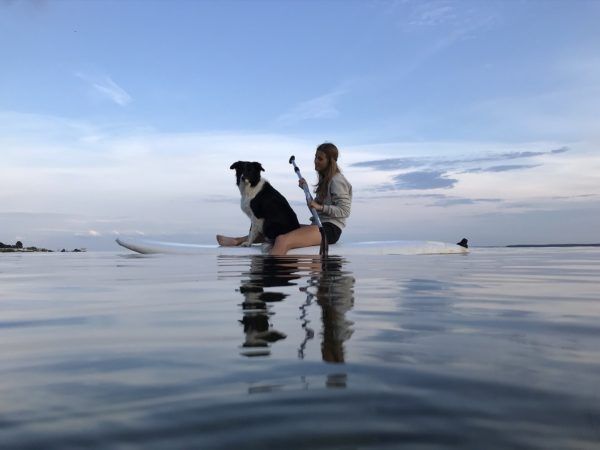 photo. Marta Samsonowicz
There are many more outdoor options. However, it is worth remembering that every dog reacts differently to deep water. How animals behave on a SUP, kayak or packraft will depend primarily on their previous contacts with the aquatic environment. So let's not set long routes or decide to swim together if the dog has never tried to enter the water or is afraid of it. Before taking off, let's try to lay out the board at home or let the dog get acquainted with the new situation on land, before entering the river or lake. Let's choose the equipment to suit the size and weight – ours and the pet's. Likewise, the kapok, which should have the right buoyancy for the weight. And finally – let's make sure we have paddling experience, so that if necessary we can take care not only of ourselves, but also of our canine passenger.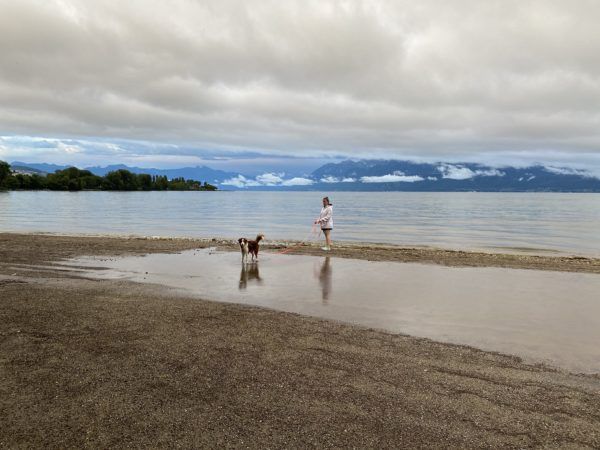 photo. Michal Dabrowski